iSTYLE appreciates your studies. How? Of course discounts!
If you are currently a university student or teacher, you can now save 5% on any Mac at all iSTYLE stores with our educational discount. Applying your discount is as easy as presenting your valid university student or teacher ID at any of our stores across the Middle East. One of our staff will match your ID to the participating institutes and you will be up and running in no time.
Join to our new Loyalty Program and get 5% on any Mac all year long. Check all the benefits and register now here!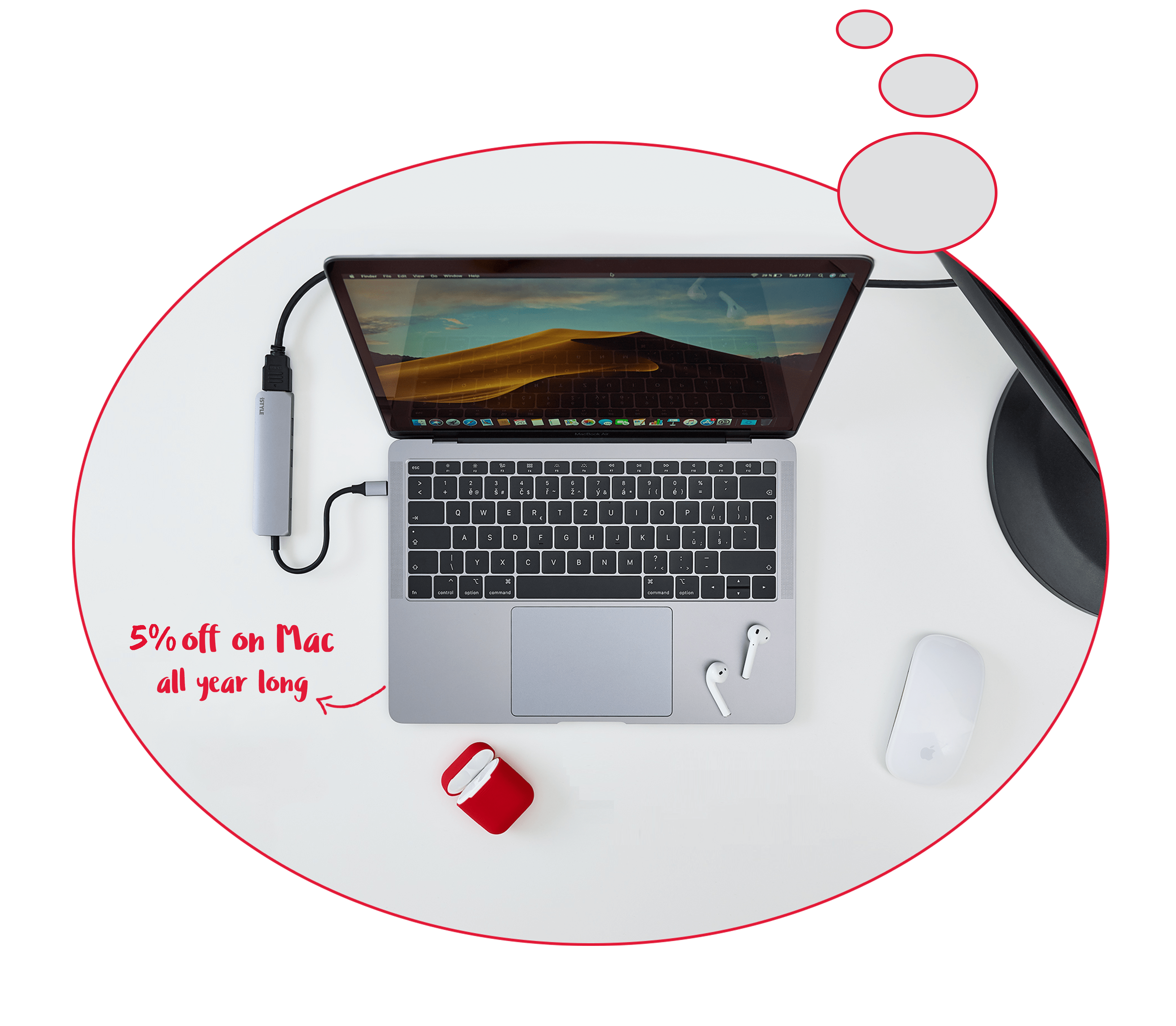 Why Mac?
Easy to use
The macOS has a minimalist, optimized and easy-to-use interface, making it extremely intuitive for use, even for a beginner. Due to the fact that Apple designs and builds hardware and software unity, it benefits from an unmatched integration level for any other industry producer, translated into the phrase "simply works". In addition, built-in protection prevents malware and protects you from PC viruses.
Because you can use it all day
Mac laptops are designed for maximum mobility, which includes extremely generous battery life. MacBook Air, for example, allows up to 12 hours between uploads (to use it effectively, including wireless internet surfing). Practically, with a Mac, you have all day to put your plans into practice.
It resists the most demanding materials
A Mac is built to resist. The solid aluminum design is stylish, durable and ready to withstand the rigors of student life. It's thin as a blade and light as a flake, so you can take it in your backpack wherever you are.
Extraordinary and extraordinary
A Mac is excellent not only for hours but also for everything you do outside of it. Film and edit a short feature on campus, turn your home in an audio recording studio, or relax with exciting social networks and games. In the App Store for Mac you will surely find an application for whatever you like to do.
Why Mac for School?
The best of his class.
Regardless of your field of study, a Mac will have remarkable results. You can work in the most demanding applications thanks to advanced processor, graphics, or storage capabilities and see everything on the high-resolution Retina screen that shows everything extremely clearly and in detail. In addition, extended battery power allows a Mac to work late into the night.
Compatibility is an
admission condition.
In addition to collaborating with free applications for productivity and creativity, you can run popular software programs such as Microsoft Office, Mathematica and AutoCAD. Do you need a Windows application like SOLIDWORKS? No problem. A Mac runs Windows at native speeds with the included Boot Camp utility.
Connections across the campus.
Every Mac is designed to connect directly to faculty networks, shared printers, and other devices on the campus. You can easily log in to educational resources management systems and even on PC networks. And AirDrop allows you to instantly send a photo, course notes, documents, and other files to a nearby Mac, iPad, or iPhone user.
Excellent apart.
Incredible together.
Having an Apple device is great, but if you use multiple Apple devices together, a lot of opportunities open up. Draw a sketch in the Notes app on iPad and paste it into a Pages document on your Mac. Record movies with the iPhone and edit the clip on iPad. The possibilities are endless.
Designed for the future.
Including yours.
A Mac is thought to grow up with you. The included operating system and productivity and creativity applications get free updates to make possible new features and new ways to use your Mac. And when you're ready to get to the next level, you can benefit from educational cuts in professional applications such as Logic Pro X and Final Cut Pro X.
Frequently Asked Questions
+
How can I order with educational discount online?
1. Register on our website
2. Confirm the registration and sign in
3. Upload the image of your valid university student or teacher ID at My account/Upload Files
4. From now you can see the prices with the discount on every Mac model
5. Place an order, and after our colleagues checked the uploaded images we will confirm your reservation


+
Who is eligible for the educational program?
Students are defined as individuals over the age of 18 years with a demonstrated status of:
1. College student
2. Higher education student
3. Further education student
4. Students currently attending or accepted into a public or private higher or further education institution
Teachers are defined as individuals over the age of 18 years with demonstrated status of teacher, lecturer, tutor or other such person in a supervisory role involved in the provision of education to students
+
How to claim your educational discount?
Offer is active only if the customer presents a copy of the university Student / Teacher / Professor ID.
+
Is there any limit on purchase?
The same student/teacher can purchase one laptop and one desktop computer per year (iMac or Mac Pro or Mac mini). Hence, the student/teacher cannot purchase two laptops or two desk computers, or more, per year.
+
Can I combine the educational discount with any other offers?
No, discounts and offers can not be combined.