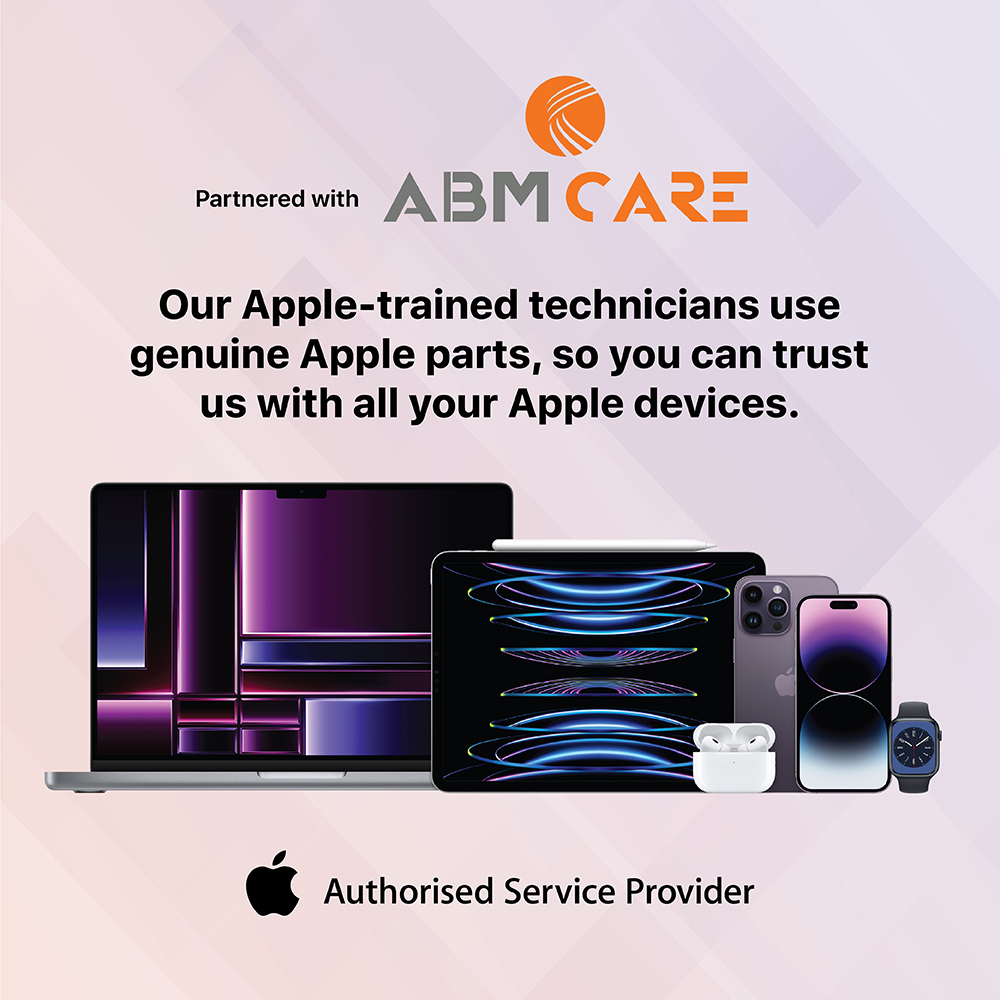 Apple Authorised Service Center
(operated by ABMCARE), is your one stop destination to avail quality repair services for your iPhone, iPad, MacBook, iMac, Apple Watch, Airpods & more.
Book appointment now >
---
---
Service center locations
Dubai | Abu Dhabi | Al Ain | Sharjah | Ras Al khaimah
---
Services we provide:
At iSTYLE, an Authorised Apple Service Center (operated by ABMCARE), we provide services pertaining to both Software & Hardware :
Software Restoration:
Many of the device performance related issues occur due to either software getting corrupted or due to inappropriate software installed on the device. Such problems are addressed through diagnosis and restoring the software based on the diagnostics test.
Software Restoration is a paid service offered by Apple Authorised Service Providers at iSTYLE stores (operated by ABMCARE).
At iSTYLE, our Apple Certified Technicians are trained to diagnose the software issues and help customers with Software services required to keep their Apple devices working in perfect condition.
Software Reinstallation:
Software re-installation is done when a genuine software is not installed correctly or the customer has opted to upgrade a specific version of the software, including the operating system. Though this can be done by customers themselves, it is advisable to use the services of experts to ensure nothing gets disturbed in the device during the re-installation process. At iSTYLE, our Apple Certified Technicians are trained to diagnose software issues and help customers with re-installation services to make their Apple devices function as per the specifications.
Software Upgrade
Update to latest version of OS: iOS or macOS or iPadOS
Hardware Diagnosis:
Diagnosis is a service iSTYLE provides for all devices coming in for repairs. However, in out of warranty cases, customers can get a diagnosis done and obtain a diagnosis report, which they can use for submission to the relevant authorities or to the insurance service providers, before deciding to proceed with the repairs. At Apple Authorised Service Center (operated by ABMCARE), we use our professional tools as provided or approved by Apple to determine the problem with your Apple device, and provide a standard diagnosis report or estimate as requested.
What should you consider before taking your device for service?
Follow these steps before you send your device in for repair or replacement. If it won't turn on or respond, finish as many steps as possible:
Step 1 - Check the warranty status.

Step 2 - Back up your device.

Step 3 - Remove your device from your Apple ID device list.

Step 4 - Remove the SIM card from your iOS device or iPadOS device if it uses one, and keep it in a safe place. If your iOS device doesn't use a SIM card, contact your wireless service provider to suspend service if necessary.

Step 5 - Remove protective cases or any other accessory.


Why choose our Service center (operated by ABMCARE) as your Repair Service Provider:
● We are an Apple Authorized Service Provider (operated by ABMCARE), Our Apple experts are specifically trained to provide the best repair service you deserve!

● Part replacements with genuine Apple parts only : We are an authorised service provider and we use only genuine spare parts supplied by Apple.

● Quick Repairs: As an authorised Apple Service provider, we assure you that most of the repairs are on the same day. For example, iPhone screens can be replaced in under 60 minutes, while we can do iPad screens replacements in a couple of hours.


Frequently Asked Questions
Do I need to book an appointment for repair with iSTYLE?
At iSTYLE, we welcome walk-ins for you to drop your device at our Apple Authorised Service Center. However, we recommend all our customers to contact the store or book their visits prior, so we can be prepared to service you faster based on your issue.
Are you Apple Authorised?
How long will it take to repair my device?
Most repairs are performed on the same day, However, the exact time can be communicated to the customer after device is diagnosed and based on part availability.
Will iSTYLE repair my device if it's out of warranty?
As an Apple Authorised Service Center, we repair products with a Warranty and products without a warranty. However, charges apply for out of warranty devices.
Do I need to backup my data before the repair?
It is recommended to keep your data backed up to avoid data loss during service.
What kind of repair services does the Apple Authorised Service Center (operated by ABMCARE) Provide?