iHealth - BP7 + BG1 + 1 Strips Value Pack

You might also like: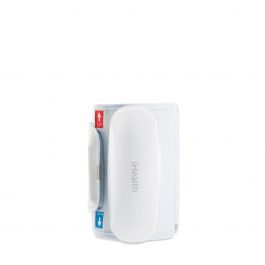 Details
Blood Pressure Monitor
Clinically Validated
Clinically tested and FDA approved, the iHealth View Wireless Wrist Blood Pressure Monitor gives you reliable readings at home or on the go. View your blood pressure and pulse measurement instantly on the sleek display.
Intelligent Display
This smart wireless wrist blood pressure...
More Information
Compatibility - adapter
USB
Ports and Interfaces
3.5 mm stereo mini jack
Bluetooth V3.0+EDR Class 2 SPP
USB
Power & Battery
BP7
Power: DC: 5.0 V 1.0 A
Battery: 1x 3.7 V Li-ion 400 mAh
BG1
Power source: 3.0V (CR1620)
Dimensions & Weight
BP7
Machine size: 72 mm x 74 mm x 17.6 mm ±5 mm
Cuff circumference: 5.3" – 8.7" (13.5 cm – 22 cm)
Weight: 105 g (±5 g)
BG1
Machine Size: 2.03" x 1.17" x 0.37"
Comment
BP7
Measuring method: Oscillometric, automatic inflation and measurement
Cuff pressure range: 0 - 300 mmHg
Pressure accuracy: ±3 mmHg
Pulse rate range: 40 -180 beats/min, accuracy: ±5 %
BG1
Measuring method: Amperometric technology using glucose oxidase
Result range: 20 mg/dL ~600 mg/dL (1.1 mmol/L ~33.3 mmol/L)
Blood source: Fresh capillary whole blood
Blood volume: Min. 0.7 micro liter