iHealth - BP5 + BG1 + 1 Strips Value Pack

You might also like: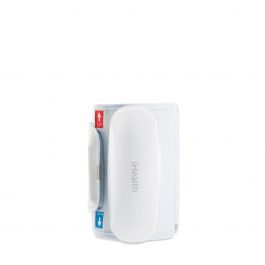 Details
Wireless Blood Pressure Monitor
Monitor your blood pressure accurately and conveniently right from your own home.
Clinically-Tested Accuracy
The iHealth Feel has been validated by the BHS and dabl for accuracy. We also are FDA approved to be a medical-grade device.We are proud to be able to bring to your home a medical-grade precision blood pressure...
More Information
Compatibility - adapter
USB
Ports and Interfaces
3.5 mm stereo mini Jack
Bluetooth V3.0+EDR Class 2 SPP
USB
Power & Battery
BP5
Power: DC: 5.0 V 1.0 A
Battery: 1x 3.7 V Li-ion 400 mAh
BG1
Power source: 3.0V (CR1620)
Dimensions & Weight
BP5
Machine size: 145 mm x 58 mm x 30 mm
Cuff circumference:Standard: 8.6" - 16.5" (22 cm - 42 cm)
XL: 16.5″ - 18.9″ (42 cm - 48 cm)
Weight: 4.8 oz (135 g) (excluding cuff)
BG1
Machine Size: 2.03" x 1.17" x 0.37"
Comment
BP5
Measuring method: Oscillometric, automatic inflation and measurement
Cuff pressure range: 0 - 295 mmHg
Pressure accuracy: ±3 mmHg
Pulse rate range: 40 -180 beats/min, accuracy: ±5 %
BG1
Measuring method: Amperometric technology using glucose oxidase
Result range: 20 mg/dL ~600 mg/dL (1.1 mmol/L ~33.3 mmol/L)
Blood source: Fresh capillary whole blood
Blood volume: Min. 0.7 micro liter