The Magic Mouse and the Magic Trackpad are perfect Apple accessories to complement your desktop. Which one is for you? This depends on what Mac you have and the functions for which you will use it.
If you have a MacBook, the most common solution is using the built-in trackpad or adding a Magic Mouse to complement it. With a desktop Mac, this decision can be complicated. Depending on your needs, we'd like to help you decide between a Magic Mouse and a Magic Trackpad.
Magic Mouse vs Magic Trackpad - Design & Appearance
Regarding appearance, the Magic Mouse has the design of a classic mouse with a multi-touch surface and that distinctive Apple style. On the other hand, the Magic Trackpad is a single multi-touch surface with the features of a MacBook trackpad.
To get an idea of whether the best choice is a Magic Mouse or Magic Trackpad, it will also help you to know its size. And, therefore, how much space will they occupy on your desk:
Magic Mouse & Magic Track : Dimensions:
The Magic Mouse measures 2.16 cm (height) x 5.71 cm (width) x 11.35 cm (depth) and weighs 99 grams.
The Magic Trackpad has dimensions of 0.49 to 1.09 cm (height) x 16 cm (width) x 11.49 cm (depth) and weighs 230 grams.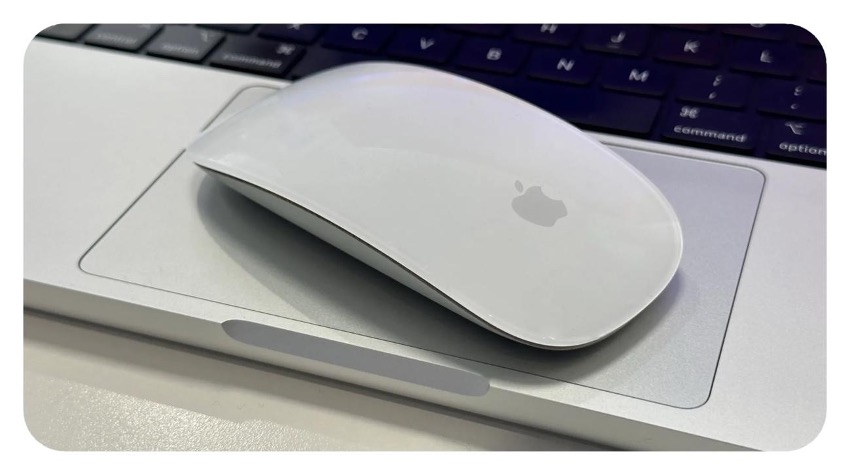 Differences in battery life and charging system
Although both have very similar battery life and are rechargeable, another point to consider (which is also closely linked to the design) is their charging system. You can charge your Magic Trackpad while you are using it. This gives you endless hours of work and creativity.
With the Magic Mouse, you can take advantage of any breaks you take to connect the cable at the rear and give it that extra charge that its battery needs or charge it when you finish working.
Functions of the Magic Mouse vs Magic Trackpad
In addition to considering the most comfortable and/or attractive design, choosing a Magic Mouse or Magic Trackpad will depend on the functions for which you will use it.
On the one hand, the Magic Mouse has all the functions of a conventional mouse. In addition to its primary and secondary click, the touch surface allows you to, for example, scroll the screen or between tabs in full screen.
The Magic Trackpad has a fully touch-sensitive surface. In addition to having the classic click and secondary click, it allows you to make countless gestures: smart zoom, scroll, rotate, slide between pages, configurable gestures with several fingers, and much more!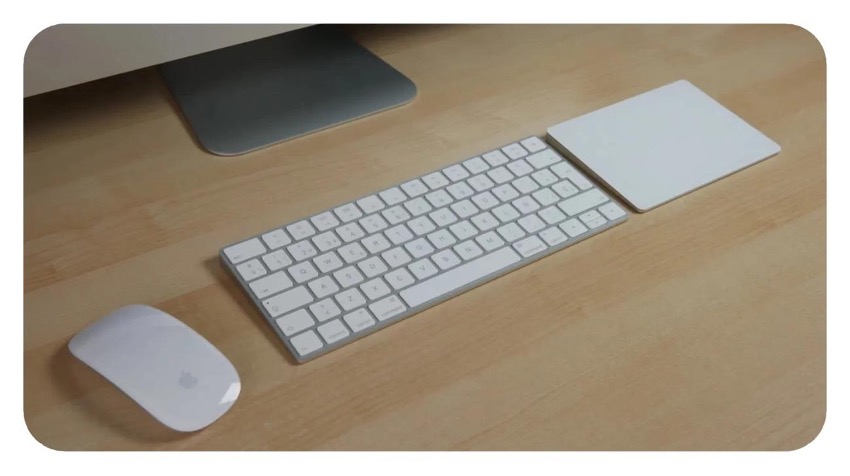 So, which one should I choose? Magic Mouse or Magic Trackpad?
In short, the Magic Mouse is a fully functional mouse with a multi-touch surface and a compact and elegant design in true Apple style. It's the perfect complement to a MacBook Air, MacBook Pro or theiMac if you will perform tasks such as surfing the web, using office software, or viewing multimedia content.
The Magic Trackpad will be your ally for significant movements. On the one hand, you will have quick access to tasks such as opening all your apps at once or viewing all your desktops and tabs. And you will also love it for photo and video editing, as it's beneficial for accurate zooming and swiping on a video timeline or an image you're retouching. If this sounds good, you've found the work tool that will make your day-to-day life much easier. Treat yourself!
Did you know you can choose either or both when ordering your iMac? By default, a Magic Mouse is included when you purchase an iMac. You can, however, decide to have it replaced with a Magic Trackpad or request both. Your Mac needs to be configured specially to have both, so you need to ask for a custom configuration which entails an additional cost and waiting time.
Check out our iSTYLE blogs to learn more about the world of Apple products & the other tricks and tips you need to know!