iHealth - Wireless Blood Pressure Monitor BP5

You might also like: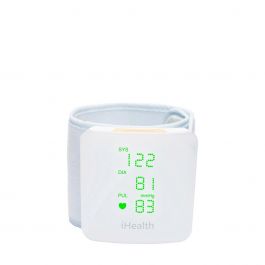 Details
Measuring your blood pressure has never been so simple! Just sit back and relax in the comfort of your home, slip on the monitor and with the push of a button the iHealth MyVitals app starts and records the measurement.
The free iHealth MyVitals app automatically keeps a history of your data and gives you the option to share your information with your doctor or caregiver. Our...
More Information
iPad compatibility
iPad Pro, iPad Air, iPad Air 2, iPad, iPad mini 4, iPad mini 3, iPad mini 2, iPad mini
Compatibility iOS
iOS 9 and higher, iOS 8.2 and higher, iOS 8 and higher, iOS 7 and higher
iPod Compatibility
iPod touch (6th gen.)
iPhone compatibility
iPhone 6s Plus, iPhone 6s, iPhone 6 Plus, iPhone 6, iPhone SE, iPhone 5S